Welcome to the 'Kids & Co' Early Learning Centre
Providing the safest and most positive environment for your child is not only a primary need for a growing kid but it also lays down a strong foundation of their mental, physical and emotional growth.
Child care centres in Melbourne, CBD like Kids and Co. Childcare provide a safe place for children to learn in a secure place with qualified and merited educators who are no less than a guardian. We give every child the time and care they need for nourishment, learning, understanding, and playing. After all, the best learning happens when you are healthy and having fun.
Give your kid the loving, fun and friendly environment in which they will thrive in every area of life. From making healthy friendships to class lessons, we solely believe in learning by practice.
All of our curriculum is designed to accommodate every child's special needs, be it the need for closer attention or for more time.
Our educators will hold the hand of every kid in safety until they learn to do everything on their own and then they will help them until they thrive everywhere.
Family Owned and Operated
Most child care centres today are owned by corporate entities that are listed on the stock exchange and only see your child as a means to increase the value of their shareholdings.
Kids & Co, on the other hand, is 100% family owned and operated, so the people that own the centre are also the people working in the centre, working directly with families and children, getting to know each and every one at a personal level. Kids and Co is underpinned with over 25 years of experience from our owners Paul and Kathy Klisaris.
Both Paul and Kathy believe in a hands on approach, and will be seen contributing to the daily tasks that childcare has to offer. From supporting our Educators, to nurturing the development of the children and giving parents the peace of mind that all possible measures are put in place to enhance their child's development and safety.
Early Learning Child Care Centre Melbourne CBD
At Kids and Co. Child Care, our strongest belief is that every kid is capable of being a competent learner and successful performer, they only need a supportive and nurturing environment to prosper. This is why we aim to provide an inspiring place to them which they can call home.
At a young age, the most important things for parents and guardians should be bring up their child in a curious way. Early in life, the best way to learn new things and retain then is by asking questions about the things we see around us everyday. Our early learning centre works to instill this kind of curiosity in every child so they ask, explore and find the answers themselves.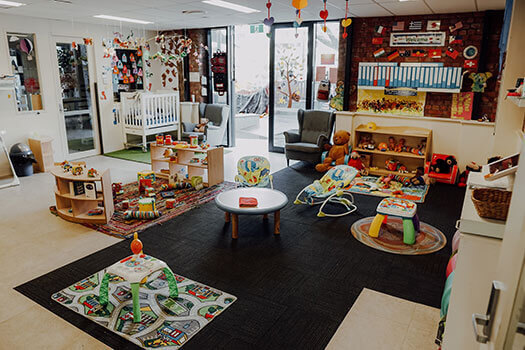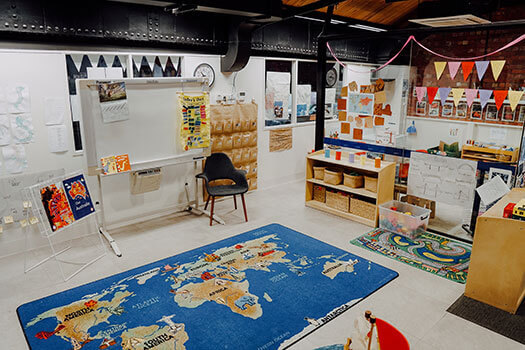 Give your child an earnest and harmonious second home, where they not only learn from books but also life and friends. This safe space will encourage your kid to not only learn by themselves but also by sharing and growing together.
Allow your child to grow and discover their full potential by inspiring self-confidence and imagination into them.
At Kids & Co. Early Learning Centre we go above and beyond the regulations in regards to ratios of staff to children. At all times in all 7 rooms we can ensure that there is an extra educator in the room. We strongly believe that taking this approach enhances all children's learning and of course minimizes the risk of any incidents that may occur.
Bamal – 8 weeks to 18 months (Ratio 1 Educator to 4 Children)
Gura – 1 to 2 years (Ratio 1 Educator to 4 Children)
Gili – 2 to 3 years (Ratio 1 Educator to 4 Children)
Badu – 2 to 3 years (Ratio 1 Educator to 4 Children)
Yanada – 3 to 4 years (Ratio 1 Educator to 11 Children)
Guwing – 3 to 5 years (Ratio 1 Educator to 11 Children)
Burra – 4 to 5 years (Ratio 1 Educator to 11 Children)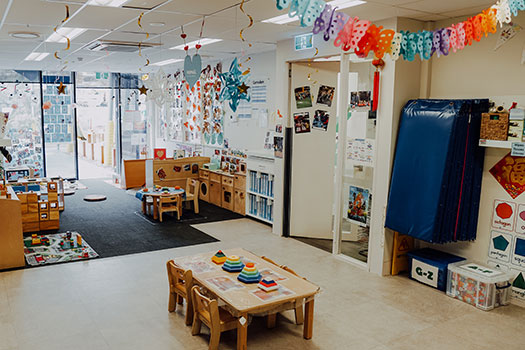 At Kids & Co. Early Learning Centre both Guwing and Burra are government foundered Kindergarten Rooms, which offer a divers learning experience to all children. Our Kinder program along with our Educational program across the service is based off children's interest. Ensuring that all children get the opportunity to learn about their interest. We believe taking this approach to learning gives children a strong sense of belonging working in line with the National Quality Framework.
Our Room Leaders develop programs that allow all children to participate in an encouraging, fun and inclusive way. Learning is extended through group time discussions, activates and the through the many incursions that we have at Kids & Co. All of our extra curriculum activities come at no extra cost to the families, as we strive to provide the most inclusive experience to all children and parents.
Why Choose Kids And Co Childcare?
Kids and Co. Child Care works towards building a fun childhood comprising of experiences and practical learning and everything we do is directed towards this one goal.
Creating a safe and nurturing environment for the children of today's modern world requires great experience, authenticity, and a technologically advanced facility. We aim to keep children in touch with nature and teach them the importance of establishing human connections, all the while providing them access to new technology for relevant and advanced knowledge.
Some of our best qualities can be quoted as below:
A team of passionate, experienced and dedicated educators who are inclined towards providing a harmonious learning to children.

A technologically advanced and hygienic facility built with a number of safety features to negate the risk of any potential danger to the kids.

High-quality, age appropriate and safe toys to maximise interactive learning among children.

Modern-age playgrounds, built to maximise safety and security, aimed to make the outdoor experience of children unhindered and absolutely fun-filled.

Effective supervision of children at all times to ensure child safety and encouraging a warm and friendly learning environment.

A curriculum designed to promote interactive and collaborative learning.

Fun-filled projects aimed encouraging every child's personal interests and inclinations.

Classrooms that promote free expressions, curiosity, questions and active discussions.
Gallery