Childcare Curriculum Activities
Parents across the world do initially struggle with the challenges of bringing up their children in the proper environment. This is where they can not only be shielded from the harsh realities of the world till the time comes, but also have a fulfilling and nurturing environment for the entirety of their childhood. Finding a good and healthy balance between the two aspects is anything but an easy process and the added factor is that nowadays, many parents are both working.
This leaves little to no time to spend with their children. In this case, the remedy is that the child should spend as much time as possible with other children of their age rather than a teacher.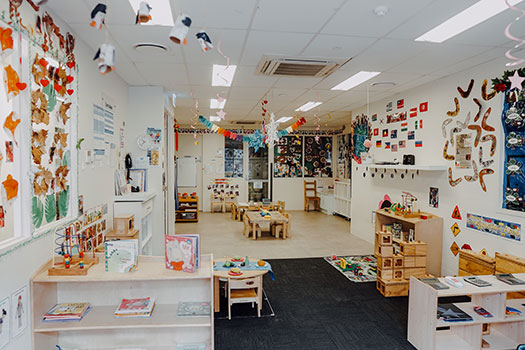 On the question of chalking out a thorough curriculum, one needs to take the duration of the child in the daycare centre into account before anything else. By ensuring that everything is done in a systematic manner, there will be little to no room for any errors. Our aim is to make sure that they get the ideal 'home away from home', if you will.
It will mainly consist of a variety of different activities throughout the day, along with basic math and alphabet classes. Literacy and science will also be covered by our teachers on a day-to-day basis. All types of classes will certainly strengthen the aspect of being (in the here and now) while new introductions and interactions with both teachers and students will encourage a warm sense of belonging.
Even outdoor activities (as discussed before with a sustainable touch) will be pursued. Some of these activities consist of teaching them to conserve water in the smallest way and rewarding them for it and showing them how used water can be put to good use in the garden. At Kids and Co. Child Care, once you get in touch with us, we make sure that no detail is left out for you and everything will be made easier for your kids to follow.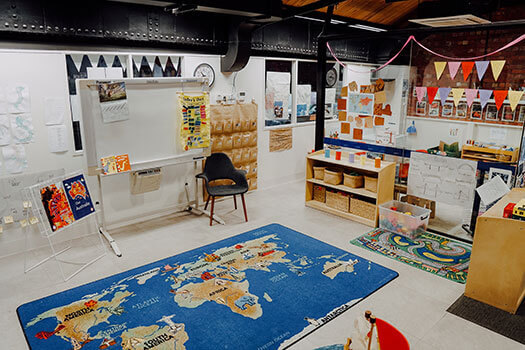 Extra Curricular Activities
"All work and no play makes Jack a dull boy" is a quote that has been around for several years on end, almost like a warning to both parents and school teachers to let a child have a healthy mix of the two aspects.
Ideally, even though the quote emphasised more on the lack of play, neither work or play should completely dominate their lives in any way. Too much of one aspect is never really a good thing. In this regard, we have an array of multisport classes that even include certain forms of dancing as well.With a kid-friendly routine, not only does their energy levels remain as high as possible, but it is a lot of fun for everyone concerned. Additionally, we also make it a point to change up our sports program every now and then. This is done so that there is something to look forward to, ensuring that none of the children get bored in the process.
Nothing will make your child happier and more fulfilled than the fact that he is surrounded by kids of his age who he/she can relate to and grow up with in a fun, secure and homely environment. That is the very foundation of rearing a child and establishing a beacon to the future indicating the nature of their interactions for the rest of their lives.
Plus, once they have passed the age of five, we will even start basic fine art and music classes just to see which of them are more inclined as compared to the others. This is a vital aspect that is often missed out by both parents and other daycare services alike. In the past, many daycare services made the mistake of letting the child be with no heed paid to pursuing any kind of activities in general. In this regard, we have always strived to right this particular wrong in every way possible.
At Kids & Co. early Learning Centre we offer extra curriculum activities to all age groups.
Sport Program
Every week at Kids & Co. our sport program comes to visit the children. This program is offered for our Gili room through to the Burra room. We understand the importance of physical activity that this program offers to the children along with working on gross motor skills, confidence and team work.
Singing Program
Every fortnight our singing program comes to our centre to sing and interact with the children. Interactions take place using props for children to use whilst taking part in the program. This program is offered to our younger age groups, from Bamal through to Badu.
Dance Teacher
Here at Kids & Co. we pride ourselves of our Kinder Graduations, understanding that this is a very special time for families. As their child's journey from childcare is coming to an end, and a new chapter in education is about to commence. Our dance teacher works with both the Guwing room and Burra room, to choreograph and rehearse a dance that is then performed by the children on their Kinder Graduation Day.
Incursions, Excursions
All incursions run in line with our program and are meaningful to the children. This is a way to extend children's learning through special experiences and extend on what is currently being taught to the children. We also cater for excursions for all age groups. Understanding that these experiences are special and exciting to children as they get to visit the local community. We offer both planned excursions and spontaneous excursions. As an example, spontaneous excursion can be going to the local supermarket to buy some fruit, following on from a discussion that some kinder children may have had. Where as planned excursions are when we organise to visit the local library for a reading activity with a librarian.
At Kids & Co. Early Learning Centre we go above and beyond the regulations in regards to ratios of staff to children. At all times in all 7 rooms we can ensure that there is an extra educator in the room. We strongly believe that taking this approach enhances all children's learning and of course minimizes the risk of any incidents that may occur.
Bamal – 8 weeks to 18 months (Ratio 1 Educator to 4 Children)
Gura – 1 to 2 years (Ratio 1 Educator to 4 Children)
Gili – 2 to 3 years (Ratio 1 Educator to 4 Children)
Badu – 2 to 3 years (Ratio 1 Educator to 4 Children)
Yanada – 3 to 4 years (Ratio 1 Educator to 11 Children)
Guwing – 3 to 5 years (Ratio 1 Educator to 11 Children)
Burra – 4 to 5 years (Ratio 1 Educator to 11 Children)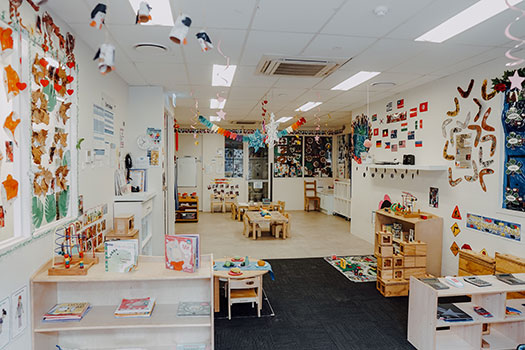 Best Pre School Education!
Happy Environment | Creative Lessons |Active Learning