About Us
Kids & Co. Early Learning Centre is a family owned and operated child care centre that caters for up to 130 children aged from 8 weeks to 5 years of age. The Klisaris family are passionate about providing the highest level of care and education, take a hands-on approach and can be seen contributing in the centre on a daily basis.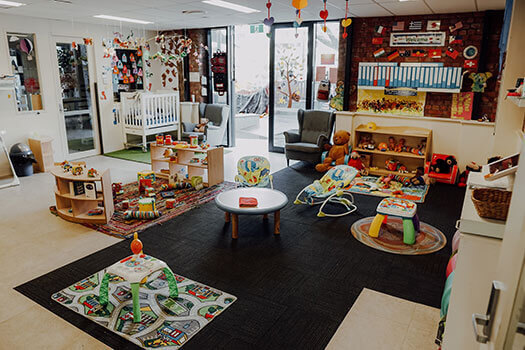 At Kids & Co. Early Learning Centre we pride ourselves on providing a welcoming, safe, secure, nurturing and supportive learning environment for children and their families of all cultures.
We work within the Early Years Learning Framework (EYLF) and the National Quality Standards (NQS), to ensure that the children in our care are provided with best practice care so that each and every one of them has an equal opportunity to develop into a strong, capable and independent adult.
We feel it is important for the children to discover and learn about the world around them, by engaging in positive interactions with educators and developing relationships where the children feel comfortable and confident.
.
Kids & Co Child Care
Our Child Care Centre Philosophy reflects our values and beliefs.
At Kids & Co. Early Learning Centre, we endeavour to meet all the possible needs of the children in our care. We aim to achieve this by providing a caring, safe, supportive, warm, happy and stimulating learning environment in our state of the art child care centre.
We encourage all children to actively explore their environment and support them to form and develop trusting relationships with other children and educators. We strongly promote numerous opportunities for play.
We believe play is valuable in every aspect of a child's development and recognise the importance of children being actively involved and engaged in a variety of learning experiences. We believe a child's learning should be supported and encouraged through positive interactions and discussions with the child's family on a regular basis.
We believe it is important to be aware of diversity and multiculturalism within the community in which we live. We aim to reflect diversity throughout our Centre, as well as in our programming. We feel that providing daily experiences will help to support this. We strongly believe that early childhood education is the foundation of a child's future.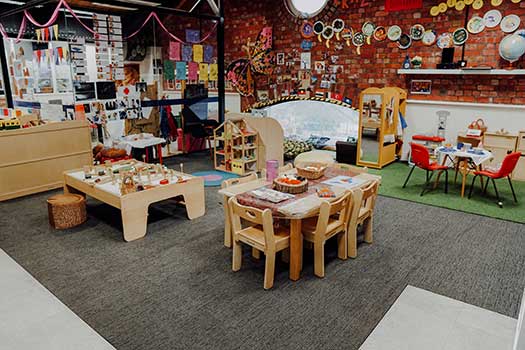 We believe that all children should be treated with equality, and their cultural diversity embraced and acknowledged.
We also strive to perform in all areas of what we do in order to continue to be recognised as one of Melbourne's best child care centres.
To promote a supportive environment that builds high self-esteem and self-worth
To provide a balanced and relaxed learning environment, where children are given the opportunity to play, discover and develop at their own rate and level
To allow time for the children to refine and practice skills that they have learnt to feel confident and happy
To promote and create a positive and flexible indoor and outdoor environment that is inviting and full of possibilities
We encourage family involvement and feedback into the development and delivery of our educational programs at all times
To promote honest and open communication with all of our families, respecting their thoughts and their opinions and incorporating these suggestions into our program when appropriate
Each child's family knows their child best, and child care professionals will work in partnership and collaboration with families to ensure the best possible outcomes for their child's needs and abilities will be met
Our educators are encouraged to facilitate the child's learning based on the child's interest and actively engage in the activities with the child
The educator will participate in the variety of activities to help ensure and guide the child's learning and help assist and scaffold the learning in a positive manner in order to support the child's understanding.
To promote and support sustainable practices within our centre with the children across all rooms.
Our main goal with our food program is to serve nutritious meals and snacks that are healthy and appetising to the children.
Code of Ethics
At Kids & Co. Early Learning Centre our Approved provider and educators are expected to follow our early childhood code of ethics when working with your children.
A summary of our Code of Ethics is:
Every child is unique and as such has the potential to grow physically, intellectually, emotionally and socially.
Each child will pass through various stages in their early childhood life and those stages are important to the individual.
Play is an important and essential part of every child's life.
Our work with children will be based upon their interests and we value the contribution children can make to their own learning process.
Children have the right to high self-esteem.
We need to be proactive in promoting respect for children and therefore will not engage in any practice that undermines any child's sense of belonging, being and becoming.
Children are vulnerable and therefore require effective role models to help them interact effectively with other children and adults.
All children are entitled to a safe, healthy and aesthetically pleasing environment, as this will enhance their autonomy, initiative, self-worth and dignity.
Our work with children should be based on the best theoretical and practical knowledge of childhood practices.
There is a special relationship between each child and their family and we will support this relationship in our work with children.
We will work with children to promote acceptance of gender, age, race, religion, language, culture and ability.
We need to help children to interact effectively, balancing their rights and needs with those of others.
Our early childhood code of ethics ensures that your child is cared for in a safe and nurturing environment.